Tonberry
The Tonberry Eggsperience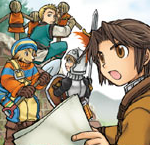 Joined: 09 Mar 2005
Post Count: 18303
Location: Budehuc Castle
1775331 Potch
0 Soldiers
0 Nation Points

Posted: Sat Feb 08, 2020 7:02 pm

Post subject:

---

Vextor wrote:
There was a Suikoden orchestra event in Tokyo last October. Another fan tipped me off that it will be attended by a bunch of former Suikoden team members. I got to meet Kawano, Komuta, Higashino, and Murayama. I had a fairly long conversation with Kawano and Komuta, which was great -- we even became facebook friends and have discussed other non-Suikoden things since then. My encounter with Murayama was an awkward one because I uncharacteristically became super-nervous. I really rarely get nervous even when addressing high-ranking officials etc... however, Murayama is like a god to me... anyhow, I think I eeked out a -- "hi, I am the owner of Suikosource..." he said "Very happy to meet you!" then I said something along the lines of "what have you been doing after you have abaondoned us?!?!?!" etc. Not exactly sure what I said. Anyhow, it was totally ungraceful, but he was very nice and said he has been working on many other projects since then (which I obviously knew... and at this moment I was already thinking "why the fuck did you say something stupid like that you 43 year-old shit-fucker!"

Yes.

Edit...
Oh yes, Higashino was still very pretty despite how she should be in her 50s or something by now. I didn't get much time with her, but I told her how her music is phenomenal and has appealed to fans all over the world due to the incredible fusion of various world music styles that transcends borders, etc. It seems she was sort of blown away as I spoke like a machine-gun and I had to quickly leave, so she was like "oh, you are leaving!?!? Bye bye!"

Anyhow, another concert is scheduled in August... so maybe I will bump into them again.



Wow! That's incredibly cool. Even if you didn't handle yourself the way you wanted to, that's an incredible opportunity. And I bet they have also discussed their meeting with you among their friends/family. You're a pretty big super-fan, so it must have been a real experience for them as well.

August went by a while ago. Did you see any of them again?
Vertius
The Runic Fletchers



Joined: 07 Apr 2006
Post Count: 4738
Location: Ceresfjellet
620937 Potch
1000 Soldiers
0 Nation Points

Posted: Thu Apr 16, 2020 12:19 pm

Post subject:

---

The CD set from that JAGMO concert was incredible -- I can only imagine what it was like to be there in person! Great that you got to meet them all, though!

Murayama is actually on Twitter now, and besides teasing a big project that he's working on this year (I'm long past having any hopes and dreams for anything Suikoden-related), he's been posting a lot about his behind-the-scenes thoughts on the creation of the Suikoden games and taking questions. Definitely worth a follow!
_________________