Rai-Jin


Joined: 14 Aug 2004
Post Count: 215
Location: Rokkaku
1416 Potch
0 Soldiers
0 Nation Points

Posted: Sat Jan 15, 2005 6:06 pm

Post subject:

---

Fliktor wrote:
Morgan was a gladiator slave who was so good (i.e. nobody could beat him) that they cut out his eyes to make it "fair" - so he continued to win all his fights anyway.



Thats what I thought too ..until today..I started playing S1 again a few days ago..and today I recruited Morgan and he said "I was blind by birth" ..no doubt.
Axiose
Altruistic Apparitions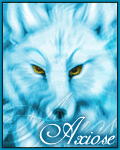 Joined: 24 May 2004
Post Count: 19502

100019091 Potch
0 Soldiers
0 Nation Points

Posted: Sat Jan 15, 2005 6:09 pm

Post subject:

---

I think that was either a translation error, or Konami stated that he was telling porkies about being blind from birth. Unless he's talking about a spiritual "birth" in which case he may well have been blind since then. But when he actually came into this word, he very much had the use of both eyes.
_________________



[Axiose] [Fliktor]