Archy
PRAISE BE TO... GROOOWL RAINING BLOOD


Joined: 29 Apr 2006
Post Count: 6831
Location: Dazin
506257 Potch
0 Soldiers
800 Nation Points

Posted: Mon Apr 21, 2008 3:05 am

Post subject: Fury/Berserk status in Suikoden 5

---

I came across this only now, so forgive me if it's known or something.

I've been replaying Suikoden 5, and only recently fought Shepcesska while recruiting Eresh.

Now, Shepcesska has a physical attack which normally deals about 80-100 per hit, with 4-6 hits, which will most likely kill whoever is hit. Now, I had Isabel on my frontline with no special armor or anything, just the stock sold by Mohsen, taking those hits and surviving.

Sometime during the battle, I cast Battle Oath (chance for all members to get Fury/Berserk or whatever you call it), and Isabel got it. Now, the damage-dealing part is all fine and dandy, since it's normal.

What surprised me was not only an increased attack - but seemingly, an increased defense as well! No kidding. Shepcesska attacked Isabel in that status again, and instead of the 80-100 he used to dish out per hit, it became a laughable 20-40. I've tried to reproduce the reduced damage under that situation but it's hard, given that normal enemies can't attack Isabel at all anymore, or that damage is already laughable enough.

So, has anyone else come across this? I'd like to know if it's just me, or if it's normal throughout Suikoden 5.
_________________



Celes Tilly wrote:
If one of you were to ask, "Celes, what is Twisted Sister?" I would tell you God's honest truth.

"Butt rock."
Falcon Critical
Haia's Star Pupil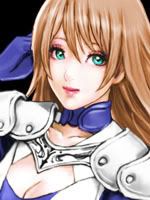 Joined: 07 Jul 2004
Post Count: 2759
Location: Kanakan
678159 Potch
200 Soldiers
0 Nation Points

Posted: Mon Apr 21, 2008 7:54 pm

Post subject:

---

Are you sure that the fury status is the only thing that changed? I used the inverse arrow formation a lot in my first playthrough with Isabel alone up front, since it gives her a defense boost and she's got mad high defense and weapon defense chances anyway.

I think I always had her in fury status though, so I'm not sure if that does anything. The inverse arrow is a good formation to test this more thoroughly in though, since the 'formation ability' is a one round firefly effect on the front-liner.
_________________